Melbourne International Millinery Competition
Hear Catherine's interview on Radio Melbourne's Lindy Burns show: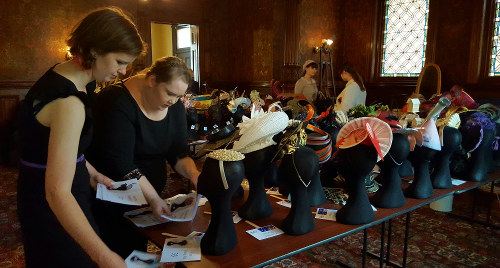 The 2018 Melbourne International Millinery Competition has been expanded to include the category Street Wear and we are delighted that SBS news presenter and fashionista, Lee Lin Chin has accepted our invitation to judge this section of the competition.
Entries are invited from milliners from all backgrounds including students and amateurs as well as professionals. Already entries have been registered from Canada, USA, UK, France, Spain, Armenia and India.
Entries have now been judged and Finalists will be announced on Friday 9 February 2018.
Apart from Lee Lin Chin, other judges include well-known Melbourne milliner Louise Macdonald whose work has been featured in the BBC dramas Pride and Prejudice, Persuasion and The House of Eliott and multi-awarding winning fashion milliner Felicity Northeast.
The competition reaches a high point on Sunday 18 February 2018 with a public preview of all the entries at Labassa Mansion, Caulfield followed by a Grand Finale parade and awards evening.