Melbourne International Millinery Competition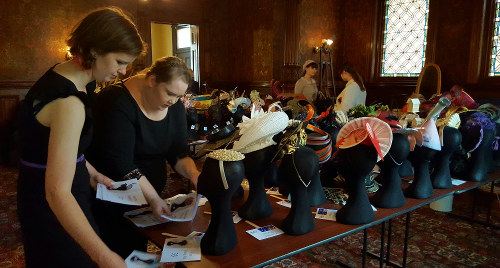 MIMC is going to be bigger and more exciting in 2019, hosting the third annual Melbourne International Millinery Competition AND the inaugural Melbourne International Millinery Convention!
This year's competition will see milliners being challenged to make a headpiece to go with an allocated outfit. Six Melbourne designers are providing two outfits each from their Spring 2018 Fashion Week collections. Entrants will be sent a sketch and photo of one outfit as well as fabric swatches for colour matching. Think catwalk, think extravagant, think exotic... Start thinking now! We will launch registration in September 2018 following Fashion Week.
The Convention will run from 10 to 15 February in the week leading up to the Grand Finale on Saturday 16 February 2019. We are currently finalising and confirming UK, Japanese and Australian tutors.
Melbourne International Millinery Convention 2019 is set to be an exciting and eye opening week of millinery! Opening on Sunday 10 February with a registration and trade day and special guest illustrator, leading into a wonderful week of workshops. A Millinery Market during the day on Saturday 16 where milliners have the opportunity to have a stall to showcase their millinery will be followed by the big Competition Finale event that night.
It will be beautifully warm in Melbourne in February – a great place to escape to if you live in the northern hemisphere. Come for the tennis and the cricket, Chinese New Year, White Night or Midsumma Festival, stay for the Millinery Convention!
Places will be limited for both the Competition and the Convention so please register your interest…
For the Competition, we have a limited number of swatches.
For the Convention, there are a limited number of spaces for the workshops.E-mail us to register your interest.