Melbourne International Millinery Competition 2020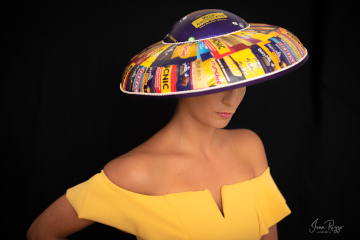 Australia's most renowned millinery competition is back for the fourth year.
This time, we want you to make Something from Nothing. Or almost nothing. We want you to design something delightful using materials you might otherwise discard or ignore.
Have a go at using some of your household waste like plastic straws, chopsticks, pencil shavings, chocolate wrappers, crisp packets, plastic bottles, ring pulls, bottle tops, sardine cans, glossy magazine pages, video tape, photo negatives, CDs, empty cotton reels, plastic bags, coffee pods – the list is literally endless!
Buy a cheap hat from a charity shop, take it apart and use the materials in a new way.
Use the offcuts of parisisal and Petersham in your workroom – discarded straw, sinamay and felt would be perfect for this competition.
Use your scraps to create something stylish.
And don't forget those pre-loved garments and fabrics. They can also be used to make newly-loved millinery. Denim jeans, t-shirts, a knitted cardigan or a cotton dress. What about old curtains, handbags, socks or stockings. A 1980s power suit or a once-worn wedding gown could be upcycled to something distinctive and tasteful.
We want you to thrill and amaze us - think:
Waste to Wonderful
Junk to Joy
Scrap to Sensational
Make us say Wow! to your use of Waste.